Snap Adds New Landmarks and AR Templates With Latest Update
Updated: Sep 6, 2019
This week Snapchat released new updates to the lens studio which include 14 new landmarks and 6 new lens templates. This is great news for AR creators and highlights Snaps continued commitment to AR technology.
Earlier this year Snap launched landmark Lenses allowing creators to bring famous locations to life via AR. The initial list included Capitol Building (Washington, D.C., United States), Flatiron Building (NYC, United States), TCL Chinese Theater (Los Angeles, United States), Buckingham Palace (London, England), and the Eiffel Tower (Paris, France). 
We particularly enjoyed the Game of Thrones experience that was launched from the Flatiron Building in NYC - largely because we are big GOT fans but the experience was pretty cool as well!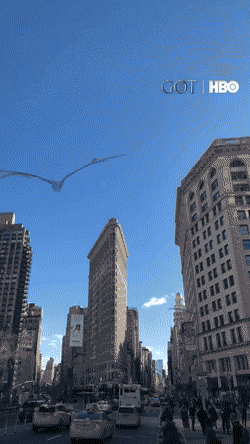 Admittedly the initial list of buildings was very US-centric but following last weeks update Snap have added 14 other iconic buildings from around the world including the Arc de Triomphe (Paris, France), Astronomical Clock (Prague, Czech Republic), Brandenburg Gate (Berlin, Germany), El Castillo (Chichen Itza, Mexico), Galata Tower(Istanbul, Turkey), Gateway of India (Mumbai, India), Leaning Tower of Pisa(Pisa, Italy), Natural History Museum (London, UK), Neues Rathaus (Munich, Germany), Qasr Al-Farid (Mada'in Saleh, Saudi Arabia), Great Sphinx of Giza(Giza, Egypt), Statue of Liberty (New York City, USA), Taj Mahal (Agra, India), and Tower Bridge (London, UK).
In addition to the new landmarks, update 2.1 brings with it 6 new AR lens templates. These include:
Countdown: Ready, set, customize! Create Lenses that count down to specific dates and add celebratory 3D hats and glasses.
Face In Video: Track that pretty face onto a video!
Hair Color: New hair who dis? Switch things up with fresh tones from root and tip! 
Make-up: Put your face on the easy way with AR lip gloss, blush, eyeshadow and more.
Portrait Particles: Jazz things up with customized particles that segment behind the user's head – Decorate with headers, footers, and post-effects.  
Skeletal: No bones about it, it's here! Track 2D images to necks, shoulders, and elbows to create sweet joint collabs!
Virtual Immersive are specialists in creating high fidelity social augmented reality experiences for a range of partners. We are also an official Snap lens creative partner, so if you have an upcoming campaign, idea of brief you would like to discuss then we would love to hear from you. Feel free to reach out to us at info@virtualimmersive.com.au